Archive Manager tools help us to Compress large file. Archive manager software made us easy to compress & to Extract several file formats without much effort.  Archive Manager tools are the better way to compress files for efficient and secure file transfer & faster e-mail transmission. This also helps in Data Storage. There are many Archive managers available for PC for compressing larger files & to extract different format of files downloaded form Internet which include .Zip, .RAR tc.
Here is a list of some good Archive Manager Applications to Compress & to Extract the .zip & other major file formats.
WinRAR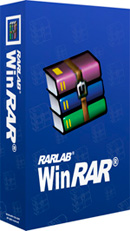 WinRAR is a powerful Compression & archive manager tool Created by RARLAB. Users can Compress, Encrypt, Package and Backup with only one utility. WinRAR is available in over 50 languages in both 32bit and 64bit and several operating systems (OS).
With the help of WinRAR you can backup all you data and reduce the size of email attachments, decompress RAR Files, ZIP Files and other files. You can Buy WinRAR Trial Version Here. 
WinRAR is not free, but you can download trial version which is valid for 40 days Then you need to buy licence.
 But best part is even after 40 days of trial period you can continue to use WinRAR. The only thing is whenever you open WinRAR after completion of trial period, it will notify you to by Licence Or Uninstal the software. There is no need to remove WinRAR from your computer. You Just need to close the notification & continue to use WinRAR.
7Zip
7-Zip is open source file archiver software with a high compression ratio. Now Compression of large files is easier with 7Zip. You can use 7-Zip on any computer for Free. There no need to pay for 7Zip Software. 7-Zip Application works in Windows 10 / 8 / 7 / Vista / XP / 2012 / 2008 / 2003 / 2000 / NT.
Supported formats:
Packing / unpacking: 7z, XZ, BZIP2, GZIP, TAR, ZIP and WIM
Unpacking only: AR, ARJ, CAB, CHM, CPIO, CramFS, DMG, EXT, FAT, GPT, HFS, IHEX, ISO, LZH, LZMA, MBR, MSI, NSIS, NTFS, QCOW2, RAR, RPM, SquashFS, UDF, UEFI, VDI, VHD, VMDK, WIM, XAR and Z.
Download 7Zip for your PC from Here. 
PeaZip
PeaZip is a Free RAR & ZIP utility Software Created by Giorgio Tani. PeaZip is a free and open-source file manager and file archiver for Windows, Linux and BSD.
PeaZip is a very good alternative to WinRar, WinZip and 7Zip. Peazip works with almost all (180+) archive formats. Some of them are  001, 7Z, ACE, ARC, ARJ, BZ2, CAB, DMG, GZ, ISO, LHA, PAQ, PEA, RAR, TAR, UDF, WIM, XZ, ZIP ZIPX . However you can Check full list of supported file formats for archiving and extraction. 
Download PeaZip software From Here.
TUGZip
TUGZip is is a powerful archiving utility for Windows. TUGZip is free to use. TUGZip is a very good alternative to 7Zip. another simple to use and install Archive manager Application. Unarchiver is completely free to use.
This application supports Supports Unpacking of  ZIP, 7-ZIP, A, ACE, ARC, ARJ, BH, BZ2, CAB, CPIO, DEB, GCA, GZ, IMP, JAR, LHA (LZH), LIB, RAR, RPM, SQX, TAR, TGZ, TBZ, TAZ, YZ1 and ZOO archive files.
With TUGzip you can Create 7-ZIP, BH, BZ2, CAB, JAR, LHA (LZH), SQX, TAR, TGZ, YZ1 and ZIP archives easily.
Visit official  TUGZip Website Here.
BandiZip
Bandizip  is an All-In-One Free & lightweight Zip Archiver.
Bandizip has a very fast Zip algorithm for compression & extraction with Fast Drag and Drop, High Speed Archiving, and Multi-core compression. It handles the most popular compression formats, including Zip, 7z, Rar, and so on. Bandizip is free to use Free to use at both home and in the office.
Supported formats :
Compression and Extraction: Zip(z01), ZipX(zx01), TAR, TGZ, LZH, ISO, 7Z(7z.001), GZ, XZ and EXE(e01).
Extraction Only: RAR(part1.rar, r01), ACE, AES, ALZ, APK, ARJ, BH, BIN, BZ, BZ2, CAB, EGG, GZ, J2J, JAR, IMG, IPA, ISZ, LHA, LZMA, LZ, PMA, TBZ, TBZ2, TGZ, TLZ, TXZ, UDF, WAR, WIM, XPI, XZ, ZPAQ, and Z.
Download Bandizip Application From here.
Conclusion
There are many Archive Application / Software available for windows. Some of them are free to use while some are paid versions. Above mentioned Archive applications are free to use (Except WinRAR). If there is more suggestion from your side, then please let me know in the comments below.